Penn State JSP Professor Tamir Sorek recently published an article, "Benjamin Netanyahu as a mobilizing symbol in ethno-class divisions among Jewish Israelis, 2009–2021" in the journal of Ethnic and Racial Studies. The article addresses Israel's recent political crisis:
Israel's unprecedented political crisis in 2019-2021 (four general elections in only two years) has attracted international attention. The local and global coverage has focused on the personality and actions of one person: Prime Minister Benjamin Netanyahu. A series of consecutive demonstrations against Netanyahu begun in 2016, and since 2019 this protest has been embodied in an almost weekly mass demonstration in Balfour Street in Jerusalem and on bridges throughout the country. Self-perceptively, these protesters appear to be engaged in a fight for democracy and liberal values. The article I published recently with my colleague Alin Ceobanu, though, indicates that intra-Jewish conflicts, based on intersecting divisions of religiosity and ethno-class distinctions, play a major role in the clash over Netanyahu's leadership.
In this study we analyzed eight public opinion polls conducted during Netanyahu's long second term as Prime Minister (2009-2021). It turned out that in this period sympathy for Netanyahu among religious Mizrahi Jews and Ultra-Orthodox, significantly increased. As a mirror-image, that he became increasingly unpopular among secular Ashkenazi Jews. We show that this widening gap does not reflect a similar polarization in political attitudes.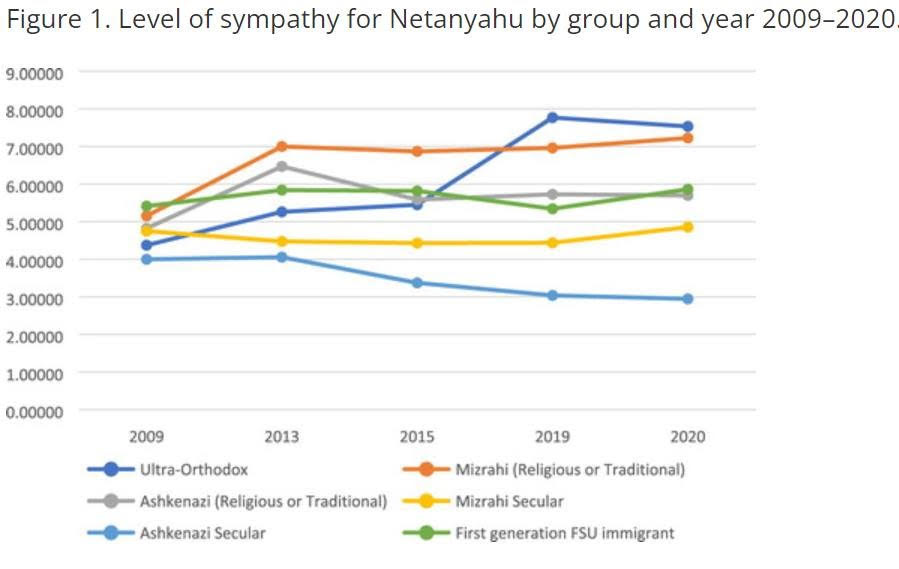 There are some real socio-political divisions behind the controversy over Netanyahu, especially concerning the political role of religion and attitudes toward Palestinian citizens. The shared interests and common denominator of the opposition to Netanyahu enabled this camp to finally remove him from power in June 2021. At the same time, secular Ashkenazi Jews and religious Mizrahi Jews are not so different when it comes to core values that maintain Jewish hegemony: in their reluctance to reconsider the Law of Return, in their self-identification as Zionist, and their unwillingness to take responsibility over the expulsion of Palestinians in 1948. In other words, even if the secular Ashkenazi group is more likely to support some reforms and the untightening of the grip on ethno-national power, both camps share a commitment to preserve the political power in Jewish hands. Therefore, we suggest that the centrality of Netanyahu's image in Israeli politics has stemmed from the ethno-class competition among Jewish Israelis, as well at the failure of some political actors, and especially the secular Ashkenazi group, to articulate a clear and coherent alternative political vision.  
Read the full article at Taylor & Francis Online (access available through Penn State account on the library's website).