The Holocaust and Genocide Studies Certificate program is designed to provide students a wide-ranging and interdisciplinary foundation in the study of the Holocaust and related fields of genocide, antisemitism and prejudice, and historical trauma.
Through a flexible and student-centered course of study beginning with a foundational course in the Holocaust and including a wide variety of elective classes to choose from in history, cultural studies, philosophy and ethics, literary and film studies, and political science, students will be exposed to a diversity of approaches to understanding and interpreting mass eliminationist violence in human history.
If you've completed the requirements and want to register for the certificate, you will need to submit the completed approval form to the registrar's office. 
If you'd like to discuss the program, or are ready to register, please feel free to reach out to our Assistant Director Andrew Brandel, Undergraduate Officer Eric Fleisch or Jewish Studies Director Professor Tobias Brinkmann.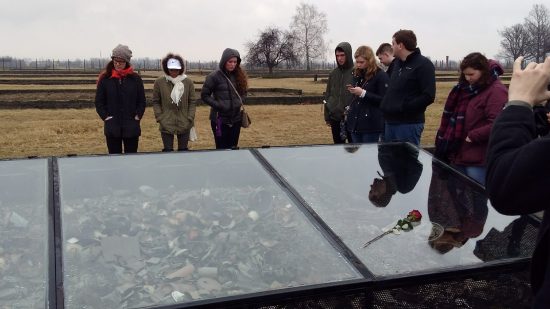 Course Requirements for the Holocaust and Genocide Certificate
Students enrolled in the Certificate program will take at least 12 credits, usually four courses, choosing from an approved list. A grade of C or better is required for all courses in the certificate program.
Introductory Course (3 Credits)
JST/HIST 121: History of the Holocaust
JST/HIST 195 (GER 123): Genocide in Global Perspectives: Twentieth Century and Beyond
Supporting Courses (9+ Credits)
JST/CMLIT/ENGL 128: The Holocaust in Film and Literature
GER/RUS 143: The Culture of Stalinism and Nazism
JST/HIST 143N: History of Fascism and Nazism
HIST 153: Native American History
JST/HIST 409Y (and RL ST 407Y): Antisemitisms
JST/HIST 426: Holocaust
JST/HIST 439: Women and the Holocaust
AFR/PLSC 443: Ethnic Conflict in Africa
JST/PLSC 450H: Genocide and Tyranny
PLSC 451: The Politics of Human Rights
JST 474 (HIST/ASIA 457): Hiroshima and the Holocaust
JST/RLST 478: Ethics After the Holocaust
Additional courses, including study abroad programs, transfer credits, and possible independent study projects, will be considered on a case-by-case basis.